Complex – 'Live For The Minute – The Complex Anthology' (2022)
---
Cherry Red Records has compiled those recordings, supplemented by contemporary out-takes and a third disc of recordings seeing their first ever release in a new three disc box set on its Grapefruit Records imprint.
Blackpool based Complex, drummer/lead vocalist Tony Shakespeare, lead guitarist/vocalist Brian Lee, bass guitarist/vocalist Lance Fogg and keyboardist Steve Coe, recorded their debut album in November 1970. The LP consisted of eleven tunes, eight written by Coe with his friend Bob Mitchell, two by Coe alone and one by Coe and Shakespeare. Only 99 copies were pressed, distributed and sold or given away. The group had a unique sound led by Coe's Vox Continental organ, using a Selmer amplifier played through Vox speakers and employing a Binson echo unit. The album opens with organ led pop rocker 'Funny Feeling'. 'Message From The Year 2000' has a delicate melody featuring acoustic guitar and gorgeous vocals. 'Green-Eyed Lucy' has a heavy riff supplied by Fogg and Shakespeare and hot lead guitar by Lee who delivers a tasty solo as does Coe. 'Josie' is a mellow acoustic tune while 'Witch's Spell' is an acid rocker with two soaring solos and a roaring lead guitar line by Lee. 'Norwegian Butterfly' is a melodic commercial number with restrained guitar work by Lee. The six minute 'Self Declaration' has a driving beat with Coe's organ and Lee's wah wah guitar on display. 'Images Blue' is a mid-tempo rocker with the band locked into a gentle groove and Shakespeare's beautiful vocals giving the song commercial appeal. 'Storm On Way' is a pop rocker showcasing Lee's guitar picking skills. The delicate 'Mademoiselle Jackie' is melodic with Coe's organ to the fore and Lee soloing the song to a close. The album's highlight, and closing track, is the box set's title track, with its roaring guitar intro and Lee's lead line dominating throughout, floating and fluttering, augmented by Shakespeare's delicate vocals, with Fogg and Shakespeare locking down the bottom end. The disc's bonus tracks include both sides of an acetate only 45 recorded in July 1970. First is a cover of Joe South's 'Hush' with Lee's guitar snarling as his lead line soars, his wah wah and reverb aided solo roaring over Shakespeare's racing drums and Fogg's throbbing bass. Next is an extended, slower tempo take on 'Images Blue' with Lee's guitar dominant and his solo leisurely flowing over the tune's delicate melody. The disc also includes alternate versions of 'Green-Eyed Lucy' and 'Norwegian Butterfly' as well as the original demo version of the latter.
Disc two is built around Compex's sophomore album 'The Way We Feel' recorded in June and July 1971. As with its predecessor, all nine of the LP's tracks were penned by Coe, seven
co-written with Mitchell. The album opens with a great bit of bubble gum pop, the keyboard driven 'Every Time I Hear That Song'. 'Am I' features a Small Faces-style organ intro and delicate melody, Shakespeare contributing beautiful vocals. Lee's wah wah laden solo joins Coe's organ interlude on 'We Don't Exist'. 'Lemon Pie Fair' is a light hearted piece of pop psych with Coe's electric piano and Shakespeare's metronomic drums dominant. 'The Way I Feel', the tune responsible for the LP's title, is another nice bit of bubble gum, with its sunny Tremeloes-like pop sound. Commercially appealing, the track could easily have been a hit. A highlight of the album is the instrumental 'Moving Moor' which features Brian Lee cutting loose with a soaring solo and a melodic organ break by Coe, a gorgeous mix of pop and neo-classical rock. Coe's electric piano and Shakespeare's echoed vocals are featured on the balladish 'Jeananette'. 'Hey Girl You've Got Style' is an organ driven melodic love song with more delicate vocals from Shakespeare. The album closer is its heaviest tune, the nearly seven minute 'If You Are My Love', which opens with snarling guitar by Lee, whose lead line is joined by Coe's jazzy organ and a hard driving riff supplied by Fogg and Shakespeare. Complex shows its ability to rock as Lee's fuzzed out wah wah laden solo soars with Coe supplying the melody as Lee's roaring guitar drives the tune and album to a close. The disc is finished off by alternate versions of 'Moving Moor' and 'The Way I Feel'. Like "Complex' only 99 copies of the LP were pressed and when major labels passed on picking it up Coe decided to relocate to London while the rest of the group remained in Blackpool, the band losing its keyboard player, and more importantly leaving them without a songwriter.
With Coe's replacement, keyboardist/vocalist Mike Proctor, the new quartet moved in a progressive direction and cut a five track acetate album at Radio Blackburn in March 1972. Side one had two original songs written by the entire band, with Proctor on lead vocals. The eight and a half minute keyboard driven 'No Title' is a space rock tinged prog rocker with Proctor's electric piano to the fore. Fogg's bass thunders while Shakespeare rides the cymbals, supplying the tune's heavy groove and Lee playing the song out with a fuzz and feedback filled solo. The six minute 'To Make Me See You' is another venture into space rock with Lee's guitar leading to Proctor's organ interlude while Fogg and Shakespeare supply a heavy groove and Proctor's gorgeous vocals make the track melodic. Side two consists of covers of three American hits given British progressive rock treatment. Shakespeare's striking vocals join the gentle guitar and keyboard work of Proctor on the group's relaxed, almost hypnotic cover of Redbone's 'The Witch Queen Of New Orleans'. Restrained guitar and organ performances by Lee and Proctor respectively join Fogg's loping bass line and Shakespeare's gentle drums on Jimmy Webb's 'By The Time I Get To Phoenix' while Proctor's organ and Lee's restrained wah wah guitar are featured on a cover of Isaac Hayes' "Theme From Shaft' which is complete with female backing vocals. When the tracks failed to result in a recording contract Proctor departed, Keith Shackleton taking over on keyboards. Three tracks were cut in the spring of 1973 in hopes of attracting attention. These included shortened re-recordings of 'Moving Moor' and 'We Don't Exist' and a new Shakespeare tune, the breezy pop rocker 'Teenybopper Joe' with its tasty lead line and wah wah work by Lee. Undaunted, the group recorded two further tracks in 1973, both competent pop efforts which sadly went unnoticed. The band's move toward mainstream pop didn't set well with bassist Fogg who exited the band replaced by Dave Yardley. A final single was recorded in December 1975 and released in April 1976, coupling band manager Johnny Burton penned 'Who Got The Love' with the Shackleton original 'She Turns Me On', competent though not memorable efforts, which failed to sell. The disc closes with six tracks written by Shackleton, recorded between 1976 and 1978, by which time Carl Hutchinson had taken over drum duties allowing Shakespeare to concentrate on lead vocals. The takes are evidence of Shackleton's songwriting abilities, highlights being 'Who Do You Think I Am', 'The Crack' and 'Susie My Friend' all featuring strong guitar work by Lee, but failing to result in any further releases. The tracks are definitely pleasant listens and important for historical purposes in documenting the Complex story.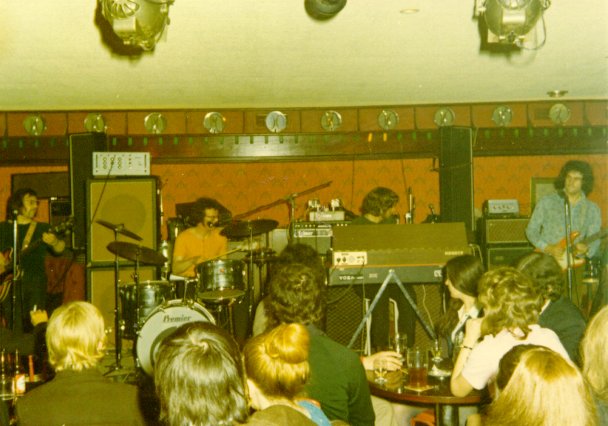 'Live For The Minute-The Complex Anthology' comes in a tortoise shell box with each of its three discs in cardboard mini-LP replica sleeves. The set also includes a 24 page full color booklet with an extensive essay by compiler/annotator David Wells as well as many photos of the band, press clippings and other memorabilia. The Complex sounds better than ever thanks to the mastering job of Simon Murphy. The box set, the last word on all things Complex, will appeal to fans of 1970's pop psych and progressive rock music and comes highly recommended.
Kevin Rathert
---
Complex – 'Live For The Minute – The Complex Anthology' (Grapefruit | Box Set, 3CD | 2022)
Complex | Interview
Source psychedelicbabymag.com