Farm – 'Farm' (1971)
Six young musicians, barely out of high school, from three small Southern Illinois towns gathered at the well respected Golden Voice Recording Studios in mid-state Pekin, IL during early May 1971 to record one of the most revered and highly sought after blues based psychedelic rock LPs of all time, with a veteran engineer, Jerry Milam, who had previously worked with artists such as the legendary Chet Atkins.
---
Original copies of the resulting album have changed hands for up to $1,000, with a 2013 German reissue on 180 gram black vinyl fetching as much as $500. As a 50th anniversary tribute to the original LP's release Spanish reissue specialists Guerssen Records have made 'Farm' available in four different versions: a yellow vinyl pressing, limited to 300 numbered copies, offered only via the US based Noble Records label and a brown w/white splattered vinyl edition of 328 numbered copies. as well as 180 gram black vinyl and CD offerings which Guerssen intends to keep in print as long as demand dictates.
Farm consisted of Del Herbert (1st guitar, 12-string acoustic and vocals), Gary Gordon (bottleneck, 2nd guitar and vocals), Jim Elwyn (bass and vocals), Steve Evanchik (congas, timbales, cymbals and mouth harp), Roger Greenwalt (organ and piano) and Mike Young (drums). 'Farm' consisted of five songs, four band originals and a Blind Willie McTell cover, with a run time of twenty eight and a half minutes, the group limited to songs that were sung by Gordon as the sessions marked Farm's first performance without their former lead vocalist.
The album opens with 'Jungle Song' a nearly eight minute tune featuring an edgy Herbert lead guitar, throbbing Elwyn bass line and driving Young drum beat. The Allman Brothers-like jam showcases the interplay between Herbert and Gordon's guitars (reminiscent of Quicksilver Messenger Service's John Cipollina and Gary Duncan) and tightness of the Elwyn/Young rhythm section with Greenwalt's organ and Evanchik's congas adding texture. 'Let That Boy Boogie', running a bit over eight minutes, shines a light once again on the twin lead guitars of Herbert and Gordon as the band boogie a la Canned Heat. Evanchik's mouth harp adds a Yardbirds vibe, with Elwyn's bass and Young's drums driving the beat and Greenwalt's piano adding flavor to the uptempo number. 'Sunshine In My Window' is another Allman Brothers style rocker with Herbert's stinging lead guitar to the fore, his tones again bringing Quicksilver to mind and Greenwalt's organ adding texture. The song has nice tempo changes and Gordon's vocals add a hint of country influence as Herbert's solo glides effortlessly with Elwyn and Young's bottom end locked in tightly as usual. 'Cottonfield Woman' is a fiery Ten Years After/Allman Brothers style guitar rocker, with Herbert and Gordon's six strings meshing beautifully. Herbert adds a memorable solo with Gordon's vocals again adding a bit of country flavor. A tempo change leads to a beautiful dual lead guitar interlude by Herbert and Gordon, with a false stop and further tempo change giving way to a twin lead guitar outro, Elwyn's thundering bass aiding the work of Herbert and Gordon. 'Farm' finishes with a cover of Blind Willie McTell's 'Statesboro Blues' which finds Gordon's bottleneck guitar and country blues vocals accompanied by Evanchik's mouth harp, Elwyn's bounding bass and Young's driving drums. Gordon adds a bottleneck solo while Herbert's guitar and Greenwalt's piano add accents helping shape the song's soundscape as Farm' glides comfortably to a close.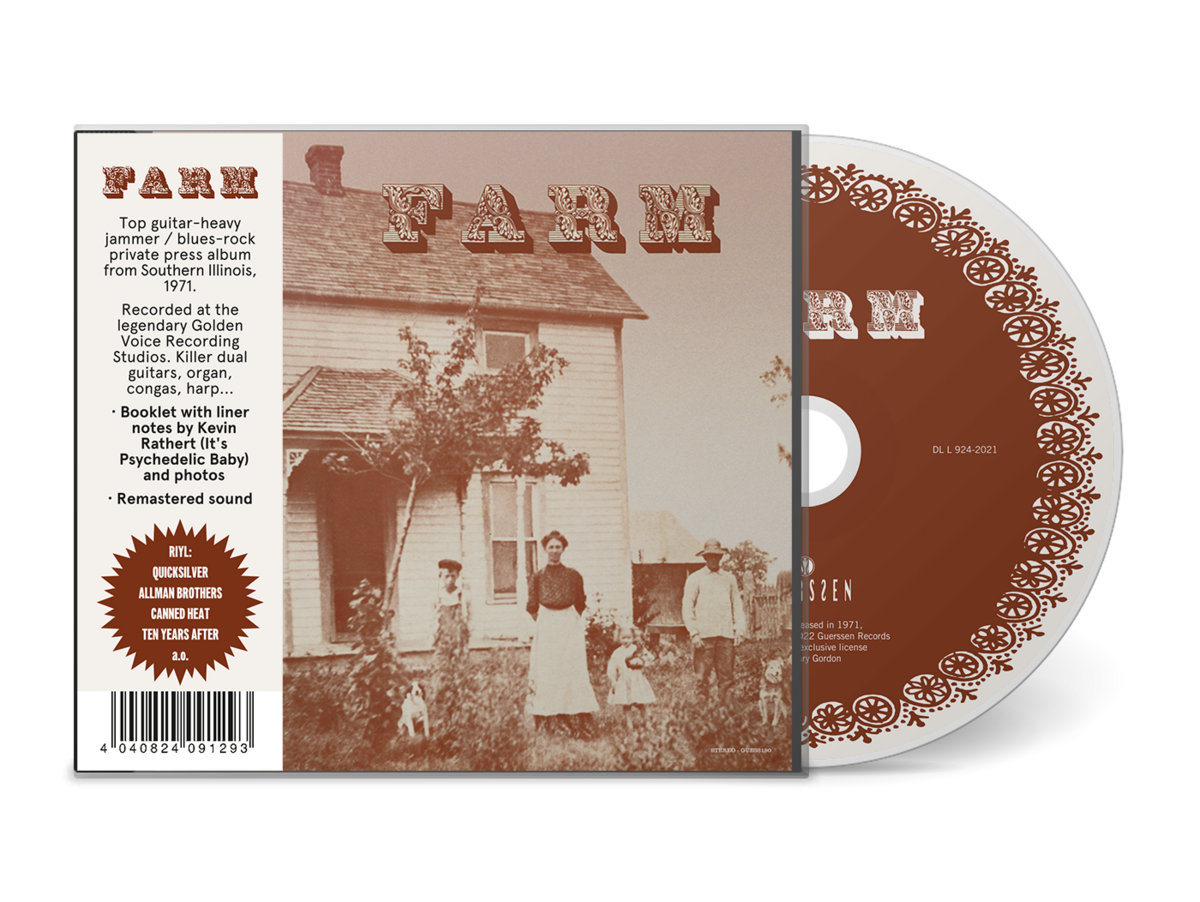 The 'Farm' LPs, all 180 gram vinyl, come in heavy cardboard sleeves and include OBI strips and digital download codes. The limited edition colored vinyl copies are hand numbered. The LPs include 4 page full color inserts with liner notes by Kevin Rathert (It's Psychedelic Baby Magazine) and photos and sound magnificent thanks to the remastering job of Thomas Hartlage. The CD comes in a jewel case with a full color 20 page booklet with liner notes by Kevin Rathert (It's Psychedelic Baby Magazine) interviewing Farm guitarist Gary Gordon and manager/soundman George Leemon. The CD version also includes sound remastering by Thomas Hartlage. This release will be of interest to fans of blues rock, psychedelic rock and 1970s rock music in general and comes highly recommended.
Kevin Rathert
---
Farm – 'Farm' (1971 / Guerssen reissue)
Farm interview
Source psychedelicbabymag.com