Reiko & Tori Kudo – 'Tangerine' (2022)
---
The release is the culmination of 30 years of improvisation and minimalist folk experimentation that began as Noise in the late '70s and found Tori playing with the likes of Fushitsusha and the legendary improvisational ensemble Maher Shala Hash Baz featuring the Kudos and mostly neighbourhood amateur musicians.
'Tangerine' is a quieter album than their background suggests, from the delicate almost-whispered opener 'Deep Sea Fish', a study in observational tranquility of fish at play to the painfully intimate 'The Deep Valley Of Shadow' which Reiko seems almost too shy to sing. Her fractured vocals and Tori's sawing (violin-bowed?) guitar scrapings are the epitome of minimalist yin and yangas the couple barely make it through the track amidst background shuffling, clanging, and assorted "everyday noises" that add to the album's overall "natural" sound.
The live recording 'We May Be' finds Reiko accompanied by a dazzling swirling piano backing, while 'Kanakana' tiptoes amidst violins and assorted string instruments for a truly improvisational smoky jazzy experience. 'Homeless' is more disorienting (as its title suggests), but I personally found the experimental trappings distracting from what starts out as a beautiful, relaxing encounter. The title track wraps an intrusive buzzing sax around Reiko's hesitant vocals, which serve more as an additional instrument to the improvisational composition than your typical story-telling frontpiece.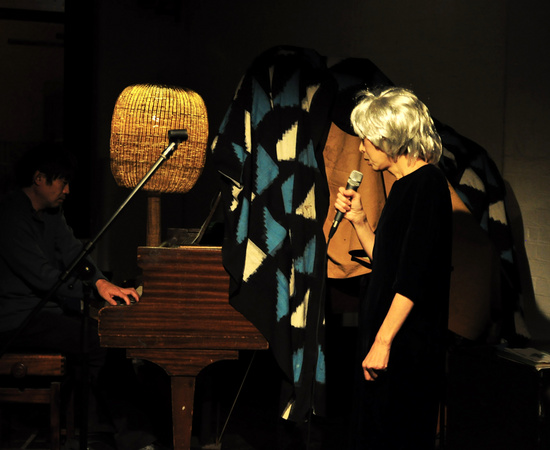 The voice and backing are occasionally at odds with each other, a common effect with spontaneous, synchronized performance and one that adds to the album's overall impact. The listener is always gently jostled into reappraisal of what he or she just heard, as the duo play off each other's hints at misdirection and playful surprise. 'The Swallow II' is dedicated to and features playwright and former collaborator Jacob Wren on serpentining bass as the Kudos tease us with a frolicking to-and-fro voice/guitar dance.
Jeff Penczak
---
Reiko & Tori Kudo – 'Tangerine' (Released 14 January 2022 on A Colorful Storm)
Source psychedelicbabymag.com