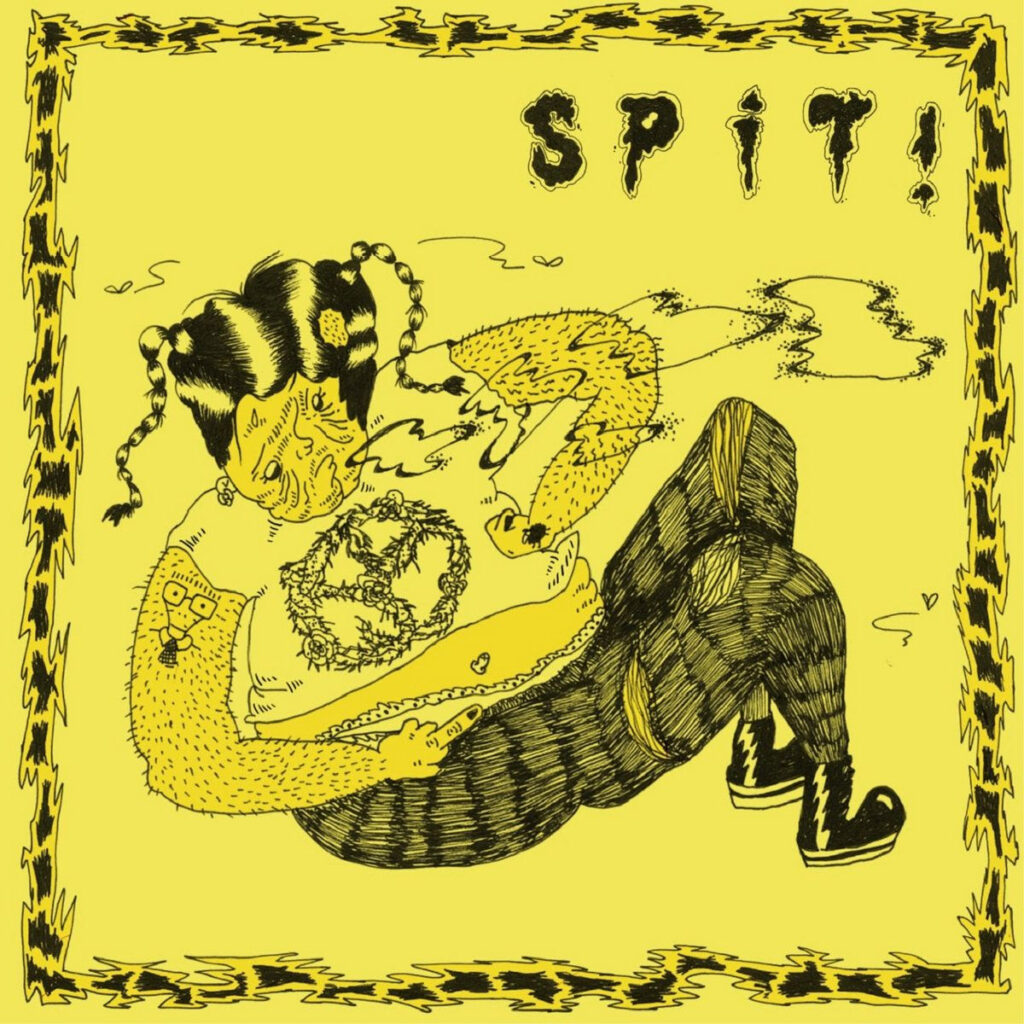 BAND: Spit
LABEL: Capture Device
REVIEWER: Arthur Urquiola
FIND MORE INFO HERE: https://www.facebook.com/spitout520/
PICK UP MUSIC HERE: https://capturedevice.bandcamp.com/album/spit
There has long been a discussion as to whether the best Punk Rock comes from political upheaval, widespread anger, and dire uncertainty. While at times the most crucial expressions of the genre hold a mirror up to injustices and society's ills, Punk Rock was born in cities experiencing recession while Hardcore's initial peak in the US thrived during the Reagan years by stepping up the anger, speed, and intensity.
After years of protests and the unprecedented dystopian times we're living in through navigating a pandemic that has locked down cities all over the world, and with geopolitical conflict seeing world leaders scrambling to keep trading the imposition of sanctions in an attempt to prevent World War III, perhaps we'll only know in hindsight whether we're experiencing a boom period for furious exorcisms of cathartic art, but one can't help but feel that those who were waiting for "the best music to come from the worst times" would know if we were currently in some kind of golden age of the underground.
One of the few recent examples of not letting the difficulties we're all experiencing result in self-pity, sadness, and apathy is Taipei's SPIT! Six years in the making, the quintet has dropped a highly anticipated record that channels the bleak and seemingly hopeless circumstances of recent years into one of the most abrasive and raging statements of intent to come out of this period.
What is clear when listening to SPIT!'s self-titled release is that the band has managed to capture the energy, spirit, and outright menace of their live performances and cram them onto a recording. This was a project that built a reputation on the chaotic dynamics of a live performance and garnered fervent anticipation for recorded material after videos of said performances appeared online.
もう一本貼っておきます。
彼らは今回が2回目のライブでFacebookページはまだフォロワー28人しかないので、いいね!押してあげてください。https://t.co/ZofIk3VyQr pic.twitter.com/SIcsGdWXLU

— 亲斤辶首 (@F_Shindou) February 2, 2020
The recordings start the way the best live Punk Rock performances would, with a nearly two-minute monolith of introductory guitar feedback that lurches into a galloping stomp to get the blood hot and preface what's coming. At less than a minute, 'GoDieGo' blasts forth, but slows to stabs of guitar and a propulsive grove indicative that this isn't going to be a one-note din. While SPIT! never let's up, the group has a pneumatic rhythm section in bassist Chris and drummer A-Pun that's tight and dynamic while driving the songs. This is a crucial element as songs like the titular 'SPIT' introduce the rhythmic elements of Sludge and Doom. Here the group manages to pull it off while keeping the stylistic shift part of a cohesive whole.
'What Can I Do' starts with a slurred, guttural growl courtesy of vocalist Tina Cho before exploding into a chugging D-Beat assault. While "female-fronted" is not a valid genre, and it would be rote as a tag to describe any musical endeavor, the presence, of a young, petite woman with such a powerful voice that can hang with the wall of noise built up around her is a striking visual. We're thankfully in a time where there's enough of a history with females in Hardcore, Punk Rock, and Metal that there's less of an assumption of a woman on stage or leading a band being a dolled-up songbird. Optics aside, Cho, who cites Suzi Quatro, Billie Holiday, Jarboe, and the DC Hardcore scene as inspirations, delivers a performance here that would herniate many people trying to sing with such intensity, regardless of gender.
'I Hate Banana' is a somewhat whimsical pummeling with more of a mid-tempo Punk Rock feel and stop-start guitars. It transitions into the album's finale '石頭' (or 'Stoner'), which as the name would suggest closes out the record with a sludgy, Sabbathed-out groove. But rather than genre-hopping, this turn ties SPIT! to latter-day Black Flag, who eschewed their Punk Rock roots in later years for slow, swampy drones. It's a track that was made for Cho's voice and shows the group's collective musicianship is such that they can take their foot off the accelerator and hit you with a tune that's slow, built around a single, hypnotic and repetitive chord progression that builds to a triumphant crescendo before it cashes into a delightful squall of feedback to end a record full of bewildering rhythmic changes.
While citing modern acts like Trash talk, South Korea's Slant and the earlier work of Ceremony (who started out as a renowned Power Violence act before slowing to mid-tempo, but still discordant Garagey Punk Rock, and further stripping their sound further back for monochrome Post Punk pursuits), SPIT! has made a record that can be played alongside earlier, more extreme examples of Hardcore Punk such as Siege and Deep Wound. But none of these acts were active in a time when the live performance was restricted as much as it has widely been in recent years in most cities, if not halted altogether.
While there will always be those who love the Blitzkrieg rhythms and have learned to appreciate Power Violence as a singular and exhilarating art form, it's a strain of hardcore where a major component in immersing yourself is lost when the prospect of a live experience is taken away. SPIT! Has successfully crafted a collection of songs that reminds you how moving the gnarliest, fastest and most confrontational Punk Rock can be. This sounds like it would be a riot to watch live in a room with others all enjoying the full-on assault on the senses. For those who that sort of live experience was something that happened so long ago they can't remember it, this is the type of work that will make you yearn for it once more.
Source uniteasia.org