BAND: Reborn
LABEL: Independent/Unsigned
REVIEWER: Aaron Birkin
FIND MORE INFO HERE: https://www.facebook.com/rebornband712
PICK UP MUSIC HERE: https://rebornvn.bandcamp.com/releases
Vietnam is a country in which metal is rapidly gaining the attention of those as an outlet to express themselves or for those looking to vent their frustrations with the stresses of daily life. The appeal of Vietnamese metal has now gone beyond its borders with many international fans beginning to take notice. Vietnam was not always a place in which various forms of heavier music were welcome. In fact, rock music was banned for a rather lengthy period of time after the war. The smuggling in of rock music from Thailand in the 80's began to change this and newer and heavier forms of music began to emerge within Vietnam after the ban on rock music was lifted.
From the earlier days of bands such as 'Wuu' who play insanely fast and aggressive grindcore to the death metal stomp of 'Bloodshed,' Vietnam is carving out its own niche within the metal scene and is quickly becoming a devastating force in the world of metal itself. By adding elements of metalcore, nu metal and death metal to their sound, bands such as 'Windrunner' and 'Reborn' are seeing a renewed rise in popularity on a worldwide basis. These bands have taken the best parts of the melodic and heavier sides of metal and melded them into something that is truly unique and one which has a distinctly Vietnamese flavor all of its own.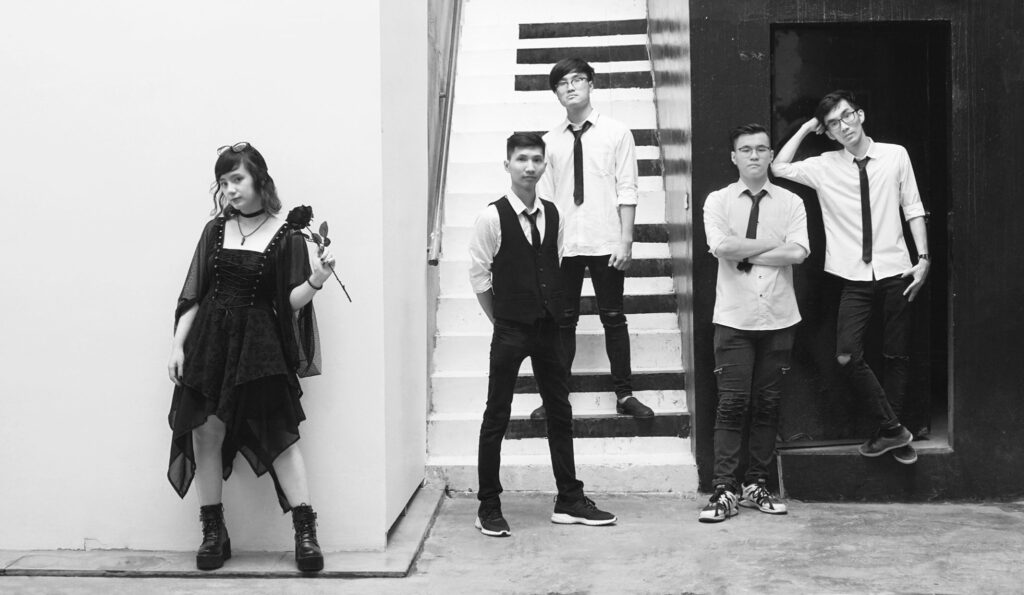 'Reborn' emerged from the shadows in 2014 and focused on perfecting their craft until they were able to maintain a steady lineup of members in 2019. Taking inspiration from bands such as 'Arch Enemy' and 'Amon Amarth', they have also been able to incorporate elements from other metal genres to create their very impressive EP in 2021.
Despite being only 5 songs long 'Inner War' packs enough punch and power to convert any bystander into a fan of this band's melodic death metal onslaught. The songs have all been injected with elements ranging from nu metal to metalcore but still retain a melodic death metal sensibility at their core.
'Sik' opens up the EP with an instrumental sound that could be compared to 80's legends 'Iron Maiden' yet it has a nice early 2000 sensibility akin to bands like 'Killswitch Engage,' especially in regards to the guitars courtesy of 'Hao Nam Dai' and 'Chi Nhan Phan'. The growl of vocalist 'Nyugen Thao Hoang' which could be compared to the vocal style of 'Morgan Lander' from the band 'Kittie' also meshes very well with the instrumentation and enables the song to take on a life of its own. Lyrically this song is also rather ambiguous and could be aimed at anyone that has let you down. The mix of melodic vocals and growled vocals in the chorus are also a nice touch and give it a distinct death metal flavor similar to the 2011 era of bands like 'Blood Stain Child'.
'The Broken Compass' is a song which reinforces the melodic death metal aspects of this band further and gives this song in particular a much punchier sound. In terms of how the vocals are delivered, they are reminiscent of the vocalist 'Ayumu' from the Japanese band 'Serenity In Murder' and also 'Ruki' from the now disbanded 'Erebos'. The much more gritty and raw sound contrasts well with the groovy and thudding instrumentals which only reinforces the unique sound of this song. The slight symphonic elements are akin to the band 'Fate Gear' which allows the song to feel old school yet very fresh at the same time. The instrumentation is also on the more melodic side of the spectrum whilst lyrically the song is about trying to achieve something but coming up short every time no matter how hard you try. The song could be interpreted as trying to overcome these obstacles and eventually attaining your goal, hence overcoming the 'inner war' in your mind.
'The Hymn Of Despair' is the most unique song on the EP and features a much more 80's influenced symphonic death metal sound as the symphonic elements have been amplified for this song thanks to keyboardist 'Tuyet Ngoc Linh Phum'. Vocally the growled vocals take on a much more grittier and monstrous approach comparable to 'Alissa White-Gluz' of Arch Enemy. The sung vocals themselves are a lot more despondent in the chorus which promotes a more sorrowful tone overall.  The addition of vocals from ' Quan ' from the band 'Bloodshed' add another layer of aggression as well. All of these elements combined allow the song to take on a unique Vietnamese style in a similar way that 'Amon Amarth' uses on their Viking inspired anthems.
Much like the band 'Windrunner,' 'Reborn' are among the top tier of metal bands from Vietnam carving out their own niche providing an outlet for the people of 'Vietnam' and international fans to express their frustrations with daily life. 'Reborn' are incredibly passionate about their craft and have the skillset to take the world by storm in the years to come and this EP is a great showcase of the unique sound that they have created that respects metal's past whilst also carrying the torch for metal's future in Vietnam as well.
Source uniteasia.org