BAND: The Rebel Riot (Myanmar)
RELEASE: One Day (2021)
REVIEWER: Arthur Urquiola
FIND MORE INFO HERE: https://www.facebook.com/therebelriot
PICK UP THE RECORD HERE: https://kidsunion.bandcamp.com/album/one-day
Punk Rock has long been a vehicle for expressing political views, speaking out against social injustice, unjust government systems, and, in many cases, politics. Punk and politics are so synonymous that for many young people, one is a gateway to the other. For Myanmar's The Rebel Riot, Punk Rock isn't just a medium of expression, it's a political statement and a line in the sand under a state of emergency and an identification of one's stance against military rule. This comes at a time of mass unrest in Myanmar, where violent protests against the military forces who seized power in February have resulted in scores killed.
After delays — the artwork was held up as manufacturers were hesitant of being affiliated with political issues — 'One Day' is The Rebel Riot's fourth release since 2007. While there is a core membership that resembles a band lineup, the group has now expanded to include like-minded musicians, artists, and activists to identify itself as a movement and the wider Punk community. This is reflected in the number of voices on 'One Day'.
The record explodes out the gate with a one-two Punk-Metal punch of 'Genocide' and 'Punks Against Sweatshops'. While taking cues from classic Crust and Anarcho-Punk acts such Discharge's wall of sound and Anti-Cimex's ferocity, the group manage to keep performances intense without losing the message in a blur of cathartic noise. The musicianship is tight, with the latter tune being the thrashier of the two. Think a more Hardcore Punk version of Slayer, or Conflict and F-Minus with the male-female vocal trade-offs and a little more chug.
But it's the ideals of Punk Rock that resonate with the members of the collective, who have a long history with community organizations and helping to set up a free medical clinic, a Books Not Bombs, as well as a local chapter of Food Not Bombs, which gets a shoutout here through a particularly galloping and anthemic track. It's just one of the many continued efforts reaching out to feed and educate the poor – causes which are so important and incredible for The Rebel Riot to be a part of, especially during times of such political volatility.
'My Buddha Is Punk' begins with a mantra for peace and freedom from suffering before a slower rock number stomps underneath incantations in tongues and Om-like chants. There's added significance regarding the Rebel Riot and the song, as four years ago they caused a stir with a publicity photo which resulted in accusations of insulting Buddhism that they subsequently had to apologize for.
One Day's titular track is a mid-tempo, call to arms and a climactic high point on the record. After more than four decades of being a genre, calls in Punk Rock songs for "coming together", "revolution" and to be part of the "fight" can often come off as trite sloganeering, but here these sentiments are conveyed with enough conviction in keeping with the importance of fighting for one's life.
'A.C.A.B' is not a cover of the classic 4-Skins tune, but there's a similar message and it's not vague or obscured in any sort of artfulness. The track was released in March with a video featuring footage highlighting the brutality suffered by protesters and even first aid volunteers at the hands of security forces and police.
Released in the same month, 'Abolish Military Slave Education' is a furious tirade against the junta's efforts to reopen schools, leading to thousands of staff and academics to take to the streets and going on strike—even if it cost them their jobs—taking a stand against the education system under the military government.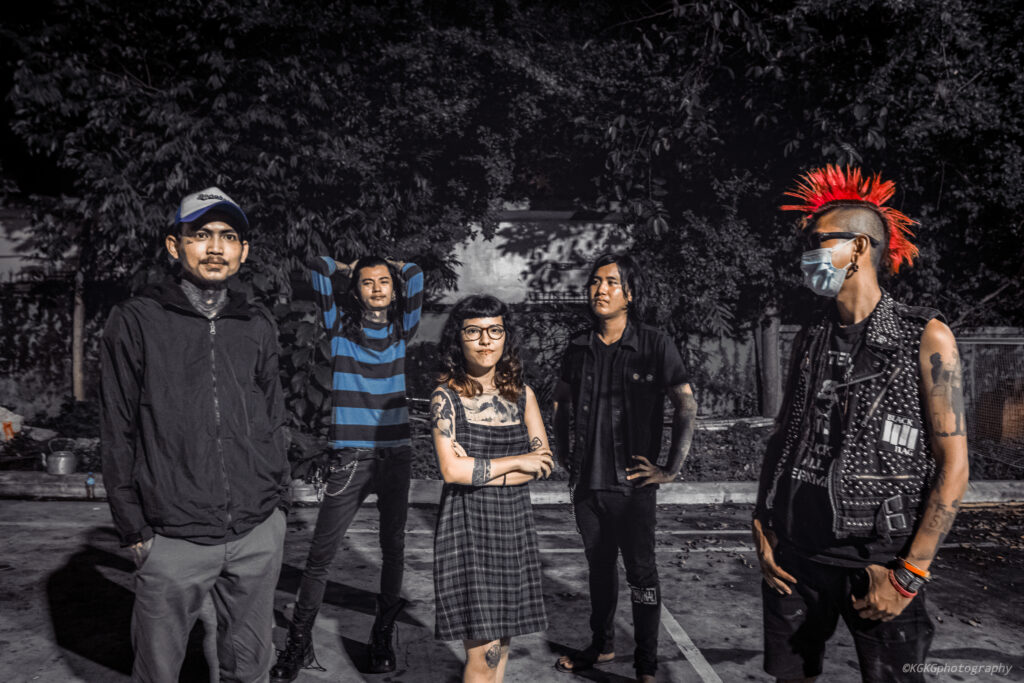 With periods where Punk Rock has made its way out of the underground and into the mainstream, to varying degrees of success, cynics would question whether or not the genre still has any potency as a countercultural force. But while there are fewer stories of people being ostracised for having green hair, or fights breaking out over someone's decision to wear a mohawk, as Henry Rollins said recently, bands like The Rebel Riot "put far more on the line." 'One Day' is a ferocious record that also documents the volatile conditions in which it was created and the anger of its creators. It's a work that proves Punk Rock can still inspire and educate just as much as it rages.
The Rebel Riot's is currently available on CD format via Kids Union Records (click HERE). The album will be available on vinyl formats soon through TNS Records (here) and Tanztee Soundsystem (here). Please note that The Rebel Riot has also released a One Day special edition 7″ on Japanese label Bronze Fist Records which you can pick up HERE.
Source uniteasia.org