Following on from their blistering debut EP "Dr. Treble" Greece's most exciting new rock act are ready to start sharing with everyone the first paragraph of their brand-new story.
"Two Bullet Johnny" is included in their second EP, which brings the title of the next character of Low Treble's tale, "Mr. Low" and is held together by a dizzying fusion of rock, funk and pop, proving that Low Treble have found a real niche of their own – alternative rock, with a deep blend of catchy funk, punk and pop elements.
"Two Bullet Johnny" is a gangster equivalent of the Boogeyman! A menacing and horrible thug that spreads horror in his wake! The only thing that Low Treble actually want, is to sing to his legend at the top of their lungs and create as much chaos as possible!
«We would love it if our song inspired youto join the mayhem».
"Two Bullet Johnny" marks a new beginning, a new adventure story, which's expected to be completed before the end of the year with the release of the band's second EP "Mr. Low".
Low Treble is an audiovisual project that tells surreal stories through music, animation & comics. Dark tales of duality and betrayal weave between the slapped bass and sparkling guitars making for a sound that is as defiant as it is disorientating. The quartet from Thessaloniki is visiting the Capital Athens for the first time, for a unique Live presentation of their amazing debut, on the stage of Crow Live Stage on December 11!
The Triple Release Live Party!
---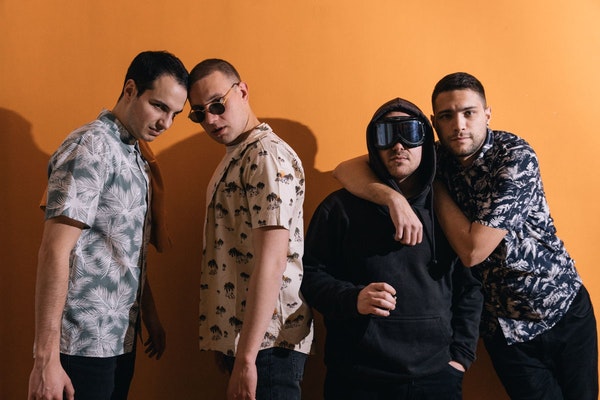 Low Treble comprises of Adis (vocals), Azas (guitar), Laskos (bass) and Pol (drums). Production by Alex Archodis, mixing by Alex Archdodis & Themistoklis Dimitrakopoulos & mastering by Alex Psaroudakis, percussion by Alex Archodis, synth by Sakis Azas, drums & bass recordings at Otse Music Studio with Nik Logiotatidis.
(Alternative rock with funk & pop elements)
FFO: Arctic Monkeys, RHCP, Jane's Addiction, The Libertines