Dry Cleaning shares a new single and video – 'No Decent Shoes for Rain' – from their upcoming album Stumpwork, out October 21st on 4AD.
+ Listen on all platforms here + 
Following the recently released 'Gary Ashby', the group takes a more somber turn on 'No Decent Shoes for Rain'.  It begins with Florence Shaw's vocals coiled tightly over woozy guitar and minimal percussion: "my poor heart is breaking."  Shaw says about the track; "​​'No Decent Shoes for Rain' is inspired by grief, grief over past relationships, grief for loved ones who have died, and all the things that come with that; loneliness, numbness, yearning, ruminating about the past."  It shows Dry Cleaning in a more pared back state, not seen in their previous discography.
The video is made of footage of the band in the studio at Rockfield and on tour, edited by Jono Canning.
Stumpwork was made in the aftermath of the death of two very important people to the band; bassist Lewis Maynard's mother, and guitarist Tom Dowse's grandfather.  Both were instrumental in the band's development, both in encouragement and, in the case of Maynard's mother, literally providing the band with a place to rehearse.  Shaw's lyrics explore not only loss and detachment but all the twists and turns, simple joys and minor gripes of human experience too.  Ultimately, what emerges from it all is a subtle but assertive optimism, and a lesson in the value of curiosity.  Stumpwork is a heady mix that is entirely the band's own, distinguishing it from anything produced by their contemporaries.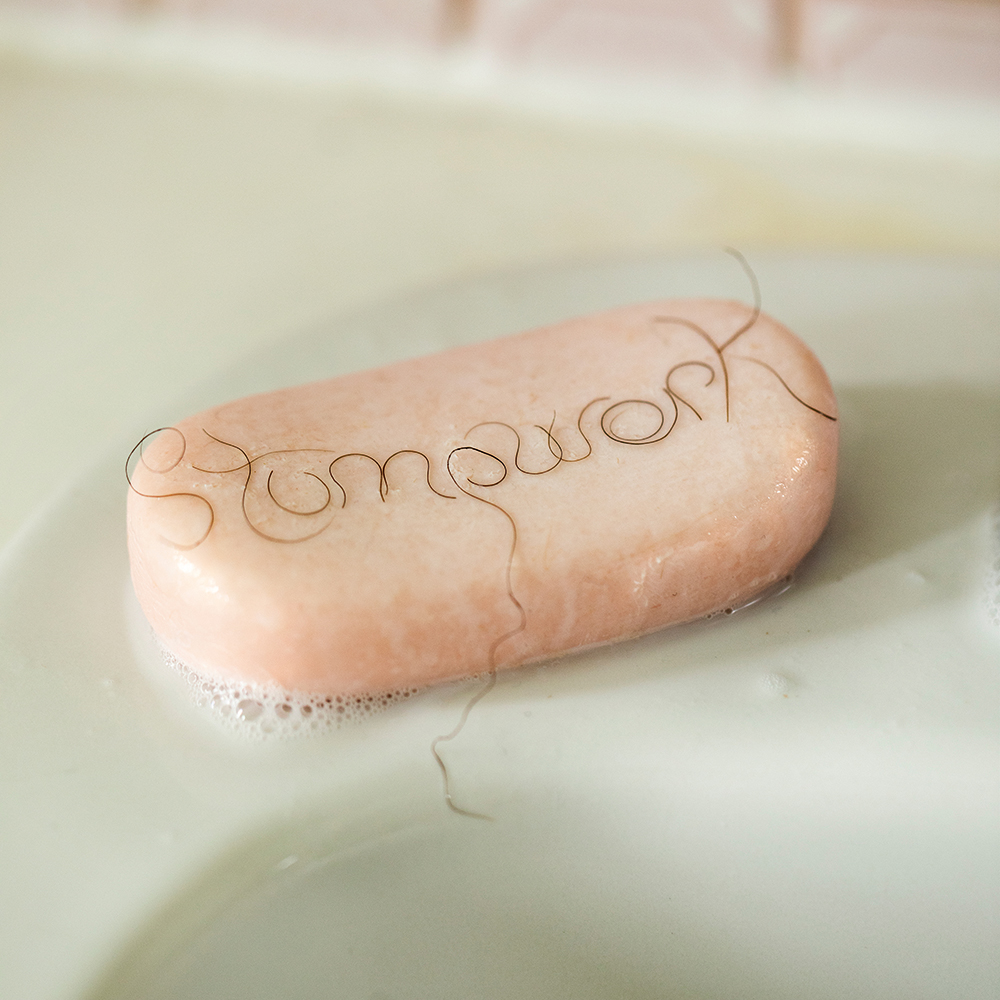 + Pre-order from 4AD Store on std white vinyl, ltd black eco vinyl, cassette, CD & t-shirt bundles here +
+ Pre-order from the Dry Cleaning Store with ltd t-shirt bundle here + 
+ Pre-order the Blood Records edition here+ 
+ Pre-order from your favourite indie store here + 
+ Pre-save on all digital platforms, and digital pre-order, here +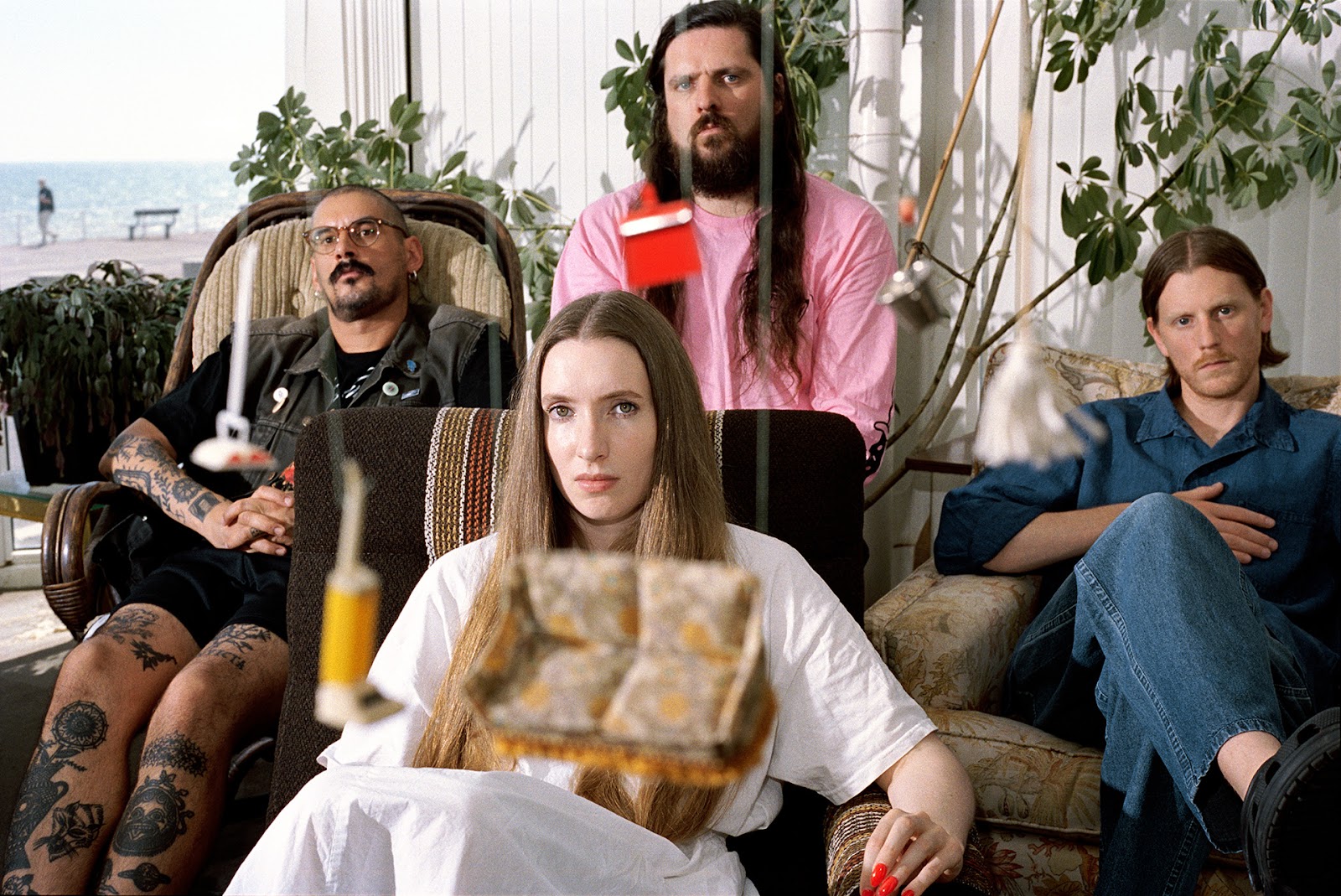 Photo by Guy Bolongaro
Dry Cleaning have announced a couple of release week shows in London, at Peckham Audio and Pryzm in Kingston.  Following those, they'll play in Japan, Australia and New Zealand, before embarking on a lengthy run in North America next year.  They'll then return to Europe for their biggest ever headline shows, including London's O2 Academy Brixton.  Tickets for all shows are on sale now and a full list of dates can be found below. 
October 2022
20th – Peckham Audio, London UK
25th – Pryzm (Banquet Outstore), Kingston, UK
November
8th – Le Trabendo, Paris, France
9th – Club Volta, Cologne, Germany
11th – Le Guess Who? Festival, Utrecht, The Netherlands
12th – Sonic City, Kortrijk, Belgium
30th – Liquid Room, Tokyo, Japan
December
1st – Club Quattro, Osaka, Japan
6th – The Tuning Fork, Auckland, New Zealand
7th – San Fran, Wellington, New Zealand
9th – The Brightside, Brisbane, Australia
10th – Meredith Festival, Meredith, Australia
12th – The Corner Hotel, Melbourne, Australia
13th – The Corner Hotel, Melbourne, Australia
14th – Manning Bar, Sydney, Australia
16th – Rosemount Hotel, Perth, Australia
January 2023
10th – La Tulipe, Montreal, Canada
11th – Phoenix, Toronto, Canada
13th – Thalia Hall, Chicago IL, US
14th – Fine Line, Minneapolis MN, US
17th – Rickshaw, Vancouver, Canada
18th – Neptune, Seattle WA, US
19th – Crystal Ballroom, Portland OR, US
21st – August Hall, San Francisco CA, US
22nd – The Belasco, Los Angeles CA, US
23rd – Crescent Ballroom, Phoenix AZ, US
24th – Congress Plaza, Tucson AZ, US
26th – Texas Theatre, Dallas TX, US
27th – Mohawk, Austin TX, US
28th – Toulouse Theatre, New Orleans LA, US
29th – Terminal West, Atlanta GA, US
31st – The Howard West, Washington DC, US
February
1st – Union Transfer, Philadelphia PA, US
2nd – Pioneer Works, Brooklyn NY, US
14th – Vicar Street, Dublin, Ireland
15th – Mandela Hall, Belfast, UK
17th – Barrowlands, Glasgow, UK
18th – O2 Academy, Leeds, UK
20th – Invisible Wind Factory, Liverpool, UK
21st – Rock City, Nottingham, UK
22nd – O2 Academy, Sheffield, UK
24th – Albert Hall, Manchester, UK
25th – O2 Institute, Birmingham, UK
26th – O2 Academy, Bristiol, UK
28th – Tramshed, Cardiff, UK
March
1st – Chalk, Brighton, UK
3rd – O2 Brixton Academy, London, UK
13th – VEGA, Copenhagen, Denmark
15th – Debaser Strand, Stockholm, Sweden
16th – Parkteatret, Oslo, Norway
18th – Knust, Hamburg, Germany
19th – Vera, Groningen, The Netherlands
20th – Paradiso, Amsterdam, The Netherlands
22nd – Hafen2, Offenbach, Germany
23rd – Strom, Munich, Germany
24th – Flex, Vienna, Austria
25th – Futurumm, Prague, Czech Republic
27th – Hybrydy, Warsaw, Poland
28th – UT Connewitz, Leipzig, Germany
29th – Festsaal Kreuzberg, Berlin, Germany
31st – Maassilo, Rotterdam, The Netherlands
April
1st – Trix, Antwerp, Belgium
Tue. Nov. 8 – Paris, FR @ Le Trabendo
Wed. Nov. 9 – Cologne, DE @ Club Volta
Fri. Nov. 11 – Utrecht, NL @ Le Guess Who? Festival
Sat. Nov. 12 – Kortrijk, BE @ Sonic City
Wed. Nov. 30 – Tokyo, JP @ Liquid Room
Thu. Dec. 1 – Osaka, JP @ Club Quattro
Tue. Dec. 6 – Auckland, NZ @ Tuning Fork
Wed. Dec. 7 – Wellington, NZ @ San Fran
Fri. Dec. 9 – Brisbane, AU @ The Brightside
Sat. Dec. 10 – Meredith, AU @ Meredith Festival
Mon. Dec. 12 – Melbourne, AU @ The Corner Hotel
Tue. Dec. 13 – Melbourne, AU @ The Corner Hotel
Wed. Dec. 14 – Sydney, AU @ Manning Bar
Fri. Dec. 16 – Perth, AU @ Rosemount Hotel
Tue. Jan. 10, 2023 – Montreal, QC @ La Tulipe
Wed. Jan. 11, 2023 – Toronto, ON @ Phoenix
Fri. Jan. 13, 2023 – Chicago, IL @ Thalia Hall
Sat. Jan 14, 2023 – Minneapolis, MN @ Fine Line
Tue. Jan. 17, 2023 – Vancouver, BC @ Rickshaw
Wed. Jan. 18, 2023 – Seattle, WA @ Neptune
Thu. Jan. 19, 2023 – Portland, OR @ Crystal Ballroom
Sat. Jan. 21, 2023 – San Francisco, CA @ August Hall
Sun. Jan. 22, 2023 – Los Angeles, CA @ The Belasco 
Mon. Jan. 23, 2023 – Phoenix, AZ @ Crescent Ballroom
Tue. Jan. 24, 2023 – Tucson, AZ @ Congress Plaza
Thu. Jan. 26, 2023 – Dallas, TX @ Texas Theatre
Fri. Jan. 27, 2023 – Austin, TX @ Mohawk
Sat. Jan. 28, 2023 – New Orleans, LA @ Toulouse Theatre
Sun. Jan. 29, 2023 – Atlanta, GA @ Terminal West
Tue. Jan. 31, 2023 – Washington, DC @ The Howard Theatre
Wed. Feb. 1, 2023 – Philadelphia, PA @ Union Transfer
Thu. Feb. 2, 2023 – Brooklyn, NY @ Pioneers Works
Tue. Feb. 14, 2023 – Dublin, IE @ Vicar Street
Wed. Feb. 15, 2023 – Belfast, UK @ Mandela Hall
Fri. Feb. 17, 2023 – Glasgow, UK @ Barrowlands
Sat. Feb. 18, 2023 – Leeds, UK @ O2 Academy
Mon. Feb. 20, 2023 – Liverpool, UK @ Invisible Wind Factory
Tue. Feb. 21, 2023 – Nottingham, UK @ Rock City 
Wed Feb. 22, 2023 – Sheffield, UK @ O2 Academy
Fri. Feb. 24, 2023 – Manchester, UK @ Albert Hall
Sat. Feb. 25, 2023 – Birmingham, UK @ O2 Institute
Sun. Feb. 26, 2023 – Bristol, UK @ O2 Academy
Tue. Feb. 28, 2023 – Cardiff, UK @ Tramshed
Wed. March 1, 2023 – Brighton, UK @ Chalk
Fri. March 3, 2023 – London, UK @ O2 Academy Brixton
Mon. Mar. 13, 2023 – Copenhagen, DK @ VEGA
Wed. Mar. 15, 2023 – Stockholm, SE @ Debaser Strand
Thu. Mar. 16, 2023 – Oslo, NO @ Parkteatret
Sat. Mar. 18, 2023 – Hamburg, DE @ Knust
Sun. Mar. 19, 2023 – Groningen, NL @ Vera
Mon. Mar. 20, 2023 – Amsterdam, NL @ Paradiso
Tue. March 22, 2023 – Offenbach, DE @ Hafen2
Thu. Mar. 23, 2023 – Munich, DE @ Strom
Fri. Mar. 24, 2023 – Vienna, AT @ Flex
Sat. Mar. 25, 2023 – Prague, CZ @ Futurum
Mon. Mar. 27, 2023 – Warsaw, PL @ Hybrydy
Tue. Mar. 28, 2023 – Leipzig, DE @ UT Connewitz
Wed. Mar. 29, 2023 – Berlin, DE @ Festsaal Kreuzberg
Fri. Mar. 31, 2023 – Rotterdam, NL @ Maassilo
Sat. Apr. 1, 2023 – Antwerp, BE @ Trix